Skin Beauty and Health Products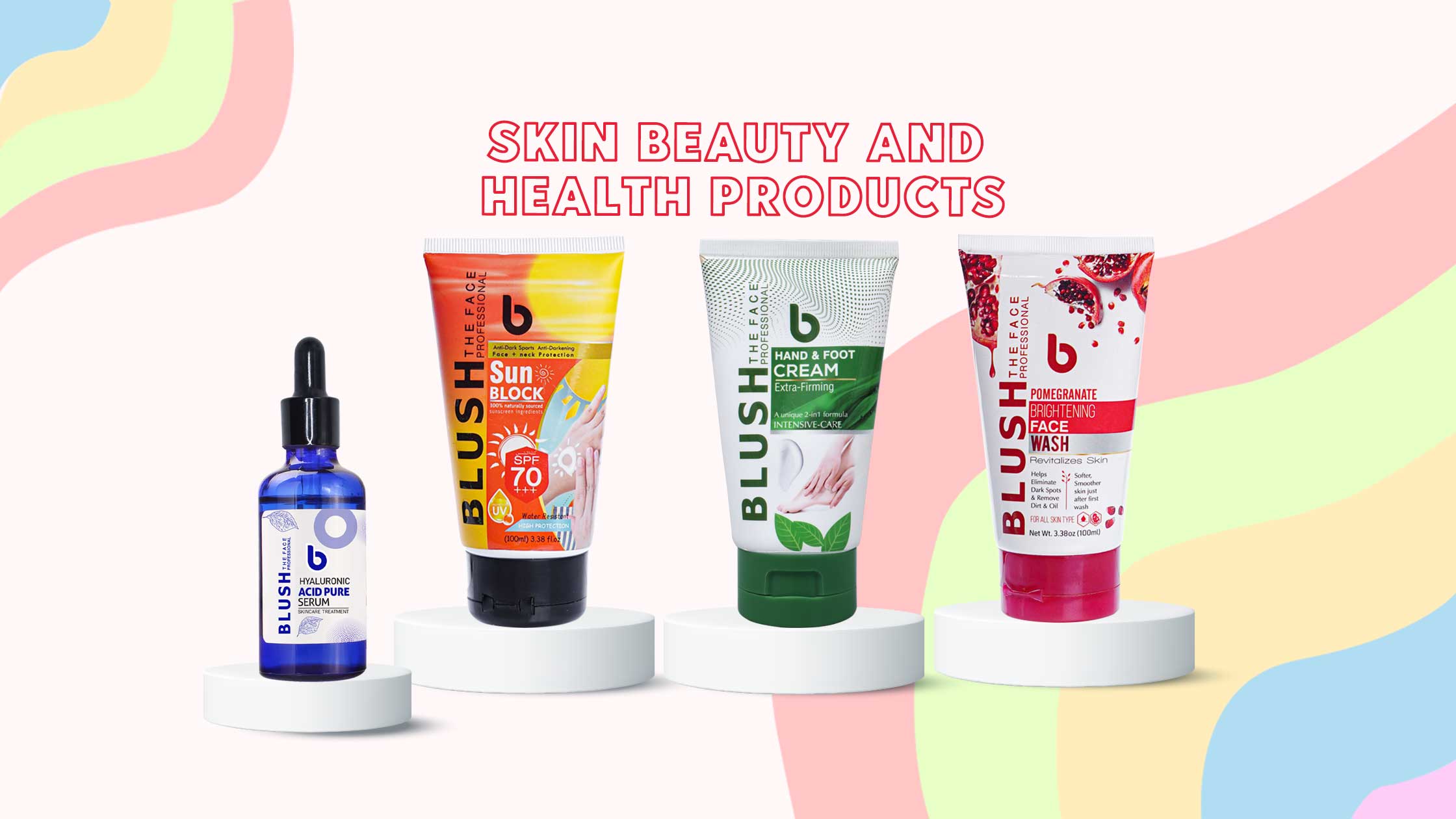 Skincare, facial cosmetics, beauty applications, hair treatments, and hydration skin routines are some of the important measures which are practically a part of the everyday life routine of a person. Some of these beauty services are practiced normally to enhance the glowing effect; however, some people are recommended important health practices which have a healing influence on the overall look. There are skin conditions like pimples, acne, rashes, patchy skin, and flaking areas, dehydrated, tanned portions which are highly suggested for replenishing and moisturizing procedures. Blush is a famous and re-known beauty care brand that is appreciated for its extensive range of cosmetics for skin health improvement like face wash for acne and pimples in Pakistan.
In addition to it, one of the common face lotions that are quite normally applied over the face and other parts of the body during high heat and extreme sunny conditions is the use of sunblock for oily skin products. Skincare routines are diverse with multiple brands, various makeup products, extravagant fragrances and perfumes, and different nutrients and ingredients that are in the compatibility of with different skin types. Among the many beauty product collections, the best organic skin care has always recorded the highest collection and retail strength by the customer. This feedback is mainly since the source of these cosmetics is pure and natural origins like herbs and plants. Such an extensive range of skin improvement products is the best therapy and health maturation for old, wrinkled, dehydrated as well as fresh skin tones.
Face wash for acne and pimples in Pakistan
The skin has many severe conditions which drastically affect the physicality and functionality of the human body layering from the surface to the core. Some of these diseases and their symptoms are acne, pimples, patches, rashes, atopic dermatitis, sunburn, pus, skin lesions, etc. These problems cannot be ignored on any basis as in many cases these result in itchiness, patchiness, dryness, redness, and forever marks left after the skin disorders. There are skin care treatments available for all such conditions; some are simple and affordable while others are expensive requiring extensive dermatologist supervision. One of the most common is the application of face wash for acne and pimples in Pakistan which is widely used for curing the biggest found skin issue of acne all over the world. Pimples are the common symptom that arises when a person suffers from acne. Face acne, is the easiest example to quote.
According to dermatologists and experts, face wash for acne and pimples in Pakistan is the safest and quickest therapy to remove all dirt and clogging pus material from the pimples. Blush, a beauty brand that offers this skin care therapy that is beneficial to release all extra and long-lasting beauty ingredients stuck on the face, which is a major cause of acne. Apart from these, bacterial and fungal infections are also cured alongside acne treatment by the use of face wash as it contains anti-inflammatory, anti-oxidant, and anti-bacterial agents. Face wash for acne and pimples in Pakistan is helpful for
Treating breakouts of dirt, pus, and pores
Prevent pimple mark retention
This is a gentle way to wash and clear acne face compared to soap
Helps in facial skin purification without over-drying it
Minimize risk of other skin illnesses like blemishing and rashes
Application of sunblock for oily skin products
Conventionally referred to as sunscreen, sunblock is the beauty or skincare routine essential product that is highly utilized during high-heat summer days. This is mainly composed of tropical fruits mixture, vitamin supplements, and photo-protective products that help to absorb excessive UV radiations coming from the sun in contact with the skin. In this way, the skin can combat skin issues like sunburns and severities like sun cancer. Sunblock for oily skin products is the first and foremost choice as the skin management regime option when sunrays penetration prevention is the main job.
During the summers, the sun is all over the head. Constant long-term exposure to sunlight accelerates oil production in human skin which leads to certain uninvited skin issues. The most reported ones are blemishing and seborrhea, leading to skin irritation. Sunblock for oily skin products is preferable and consumed for such types of skin, however, these are compatible with all other skin textures. It should be considered which skin produces high oil, therefore, for such cases; sunscreen with low oil is suggested.
In addition to these, sunblock also prevents quick aging and skin lining like wrinkles. Sunblock for oily skin products is the most recommended one as it stops more oil production which will guard against future breakouts of the skin. As, acne and sunburns are two of the frequently witnessed by a large number of people, so for treatment purposes, it is better to apply naturally organic or Ayurveda products with high mineral content. This will not only help in cleansing but also in replenishing the loss of nutrients.
Natural and green-borne best organic skin care brand in Pakistan
Skincare is one of the basic routines that demand a safe product application journey in the treatment. To keep skin maintenance under control and secure, it is better to keep it natural and true to its origin. To fulfill this requirement, the best organic skin care brand in Pakistan is mostly used for diagnosing and curing skin issues. Botanical, flora, wooden, and spices like turmeric and honey are some of the prime examples of agents that have been in use as beauty agents and skin medicines. These organic skin products are used for washing, bathing, and beauty agents, as are non-toxic. There are certain skincare benefits organic products offers over non-organic or chemically synthesized ones. These are
Go green and organic is good for the skin
Organic products are naturally borne and free from harmful chemicals
These are free of toxins and non-allergic in application
These have a 95% of organic ingredient content
There is nearly zero possibility of skin acne, irritation, and blemish breakouts
They do not support the use of fertilizers, pesticides, alcohol, etc.
The best organic skin care brand in Pakistan is good for health and eventually effective for the skin. Rose water, aloe Vera gel, and turmeric powder are some potential examples that are in practical use in skin treatment and beautification for decades. Among the many organic skin items, there are cleansers, scrubs, face wash, toners, body wax, body butter, serum, face oils, face masks, lotions, conditioners, etc.
Skin improvement cosmetics products
Skin surfaces are of many types, textures, tones, colors, patterns, and flexibility. Different physical parameters have different needs and habitual routines which are mandatory for skin health and survival. The most obvious route for good healthy skin is the consumption of a diet filled with nutrition which will have a direct natural effect on the skin. On the other hand, researchers like beauticians and cosmeticians are trying hard to manufacture safe and stable assemblies of different dry, liquid, and gaseous mixtures that will be employed as cosmetics for the body. For this purpose, Blush beauty brand and many other fashion contemporaries are striving hard in manufacturing and market a variety of different personal care, skincare, hair care, and cosmetic services.
All these care practices are solutions that are formulated to increase glow, enhance beauty and shine, improve nutritional value, replenish the lost minerals, treat the body specifically skin diseases, and thorough deep cleansing. The major expected outcome that is often witnessed after the application of agents with organic, synthetic, and beauty purpose is that it releases the deep hidden dirt, add glamour, and enhance the age of the skin. Thus, all these cosmetic yet care products have proven to be beneficial for routine casual use over the pectoral and pelvic region of the body.
Skin therapy is of different severities, some are practiced with a slight cleansing effect while others are extensive in servicing and are also employed for skin treatment. There is a constant need to protect and maintain skin surfaces due to frequent exposure to sun, dirt, and weather changes. All these have a direct and indirect influence on skin textures, color, age, and fitness, so all these factors must be monitored to continue with a proper skincare routine. This is scientifically addressed as skin therapeutics, which is medically, chemically, organically, and cosmetically aided at small and large scales.
Blush is a beauty brand that considers all the skin extremities with a focused attitude and offers the general public a variety of products that are tested for their efficacy in skin care routines. This facility is applicable for all individuals that are looking out for cosmetic servicing for skin, skin health aids, skin cleansing, and beauty enhancement procedures for facial skin. Thus, the overall physical attire is possible to improve to a greater extent by the incorporation of different kinds of skin therapeutics medicines and beauty products.