Manicure and Pedicure Treatments For Skin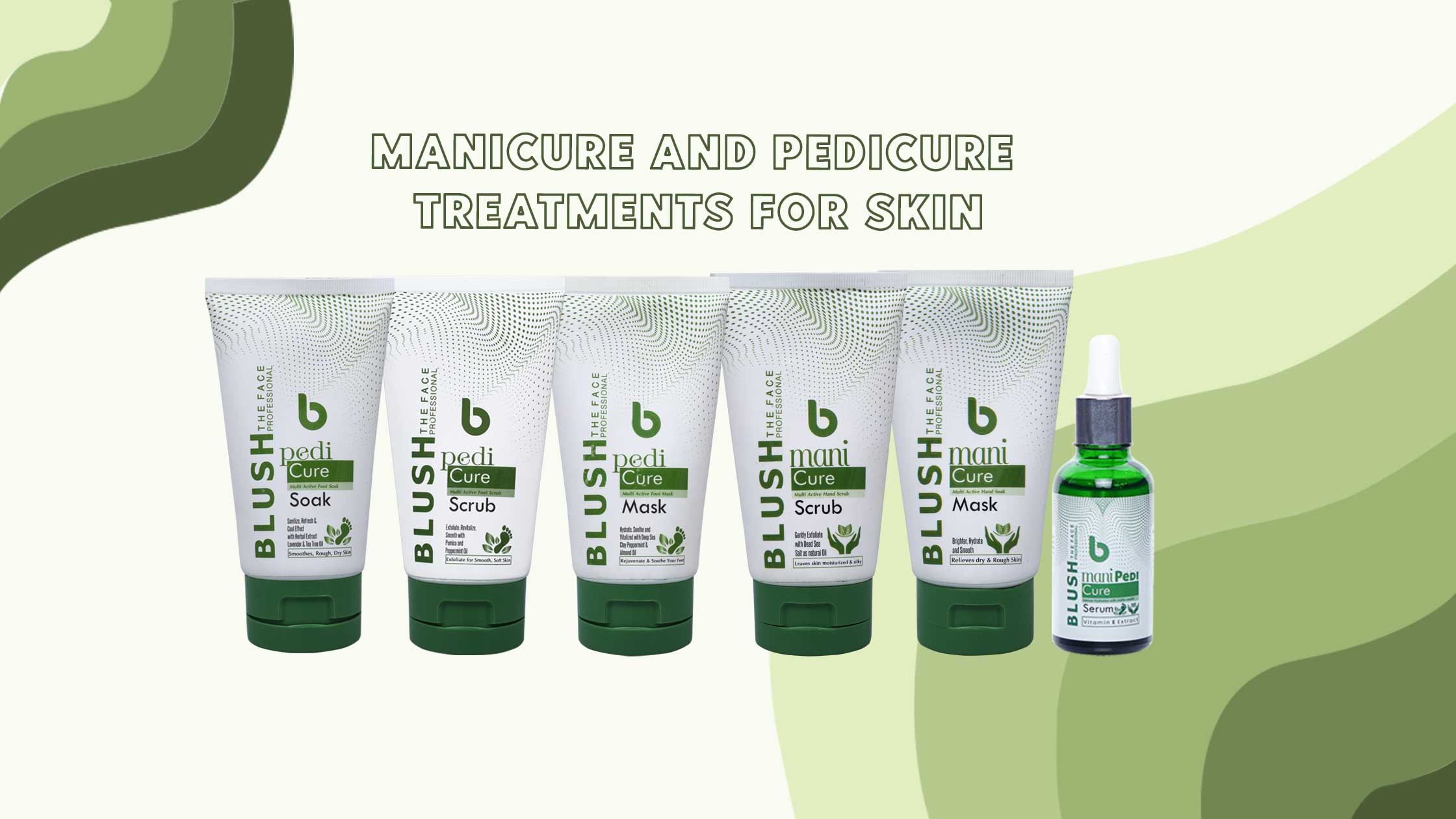 Skin safety and health are a priority when one has to look good all time. This need can be attained and replenished by a nutritious diet, juices, and vitamins from natural means. However, there is another way to get the best of a skincare routine which might be a slightly expensive approach but promises great outcomes. This is referred to as Manicure and Pedicure which are two of the most common skin care treatments practiced globally at a high scale. These beauty services are professionally received by beauticians and one can try them by following makeup tutorials. The Mani Pedi products in Pakistan are widely available at different ranges of prices from different brands. Facial, hand, leg, and foot skin all are undergone personal care processes to have bright and toxin-free skin.
One of the most important ingredients in these skin routines is bleach which is applied over the skin surface to make it ready to adapt to beauty products. Bleach kit products have lotions and creams that are masked over the facial skin for Mani and Pedi services. In nutritional makeup, serum products in Pakistan are also available which are not used as regular time cosmetics but are active moisturizer agents for the skin. Alongside skin, hair is another feature that is nearly time exposed to the environment, thus, there is a high chance that the hair color, texture, strength, and life might get compromised. For hair nourishment, hair care products in Pakistan are purchased by people in large numbers. Blush is a beauty brand that offers wide options of skin, hair, and face cosmetics which range from chemical to Ayurveda products.
Variety of regularly used Mani Pedi products in Pakistan
Like many skin care routines found in cosmetic applications, two of the most significant ones that are specifically designed to accommodate the needs of hands and feet beauty are manicures and pedicures. This is a simple but extensively deep facial type of personal health care that detoxify and clear the hands and feet skin. Both of these services are usually accompanied in a single set with the involvement of the Mani Pedi products in Pakistan which are customized following the client's preferences. Professional manicure is referred to as the process which incorporates comprehensive cleaning of hands, trimming, nailing, shaping, and polishing of nails. In addition to these, cuticle treatments, massage of hands by detoxifying liquids, and clipping of non-living tissues of hands and nails are some other services involved in manicure procedures. 
On the other hand, a pedicure is a similar skin treatment that is implemented on the feet and the skin around them. It is like a cleansing, massaging, washing, and cosmetic decoration of feet, toes, and nails which is often guarded up to the knee portion of the pelvic region. Usually, once a month, it is recommended to secure a Mani and Pedi treatment for the deep cleansing action of hands and feet, making them fresh from the skin roots. The Mani Pedi products in Pakistan are a combined kit of liquids, moisturizers, cleansers, massage creams, lotions, scrubs, serums, and specially designed tools which are employed for practically implementing Manicures and Pedicures on human skin. These beauty weapons are
Nail cutters
Nail polish
Massagers
Nail file and fillers
Foot file
Clippers and cuticle pusher
Pumice stone
Skin fork
Peeling knife
Dead skin fork
Moisturizers
Toenail scissors
Electrically skin pacifier
Other Mani and Pedi machines
Effect of bleach kit products
Face complexion is not the only thing one is concerned and worried about; there is more science to face beautification. Face tightening, intactness, and freshness are the first major attraction that symbolizes the aging effect and health of the skin. Cosmetic applications have also devised solutions that are dedicated to maintaining facial skin in its right condition through the use of bleach. Bleach is a hydrogen peroxide chemical that is used as a bleaching agent to light up, clean, brighten up, and lighten up the facial skin during facial treatments. Bleach kit products are available in beauty stores and pharmacies and are purchased for skin-bleaching purposes. It is not compulsory to implement bleaching on every individual's face as it may respond negatively to some skin types.
A very significant and well-appreciated result after bleaching is that it leads to minimizing or reducing dark circles, pigmented areas, sunspots, dark circles, and patches in the skin. Bleach kit products must be ensured of ingredients and harsh chemical composition before using them. The bleaching effect does not last forever; it is short-lived for about 15-20 days. Bleach is available in different colors and helps to get rid of tanned and differently-toned skin patterns that are a relief for many. Like for skin, bleaching products are also manufactured following the sensitivity level of hair texture and physical integrity. A clear blonde hair look is quite a famous example of hair bleaching.
Beauty services of hair care products in Pakistan
Hair is a precious feature of one's physical look. A properly fashioned and accessorized hairstyle completes a formal or informal look of a man or woman. Some people like to let their hair open and free while some keep it tight and rolled up. To suit each hairstyle, hairs need to be professionally cared for and looked after to assure high-level maintenance. Hair care products in Pakistan for beauty and cosmetic aims, health purposes, styling, and fashion are widely available and used to attire the personality. Hair care routines can be of different approaches
Hair cosmetic services
Hair treatments of abnormalities like alopecia or scalp cures
Physical improvement of the hair like straightening and bleaching
Volume enhancers for hairs
Hair hygiene by shampoos, conditioners, and fragrances
Ayurveda and organic waxes and oils for the acceleration of hair growth
Hair care products in Pakistan are mainly to protect, style, and preserve hairs in the most natural state of existence without much inclusion of synthetic hair items. The most basic and common hair protection is done by the frequent use of quality and compatible shampoos, conditioners, hair oils, and hair masks that often come in contact with hair. These are the first line of defense for hairs that keep the scalp and hairs healthy with prolonged shelf life.
Ingredients of serum products in Pakistan
The serum is one of the most regularly used morning and night routines which is a part of the skin beauty care practice. The prevalence of usage of cosmetic serum is that the shine and glow effect on facial skin, hands, feet, hair, and other parts is the most visible and pronounced among the many treatments implemented. Serum products in Pakistan, in comparison to face and hair oils, do not feel oily or greasy at all. On the other hand, it is quick to absorb and dry on the skin. The compositional mixture of a face serum is indifferent to some extent to hand or feet serum. Only a few drops a day can keep skin hydrated by the massaging of serum. Some of the benefits of serum products used as holistic cosmetic services are
It is a booster of collagen
Keep the body part firm and tight
Prevent wrinkles, patches, rashes, lines, and flaky skin
It does not allow the skin to dry out
It fights against quick aging
It is the simplest beauty regime that is safe and compatible with the skin
The serum is a beauty product or skin care item that essentially follows the quality over quantity rules any day. Serum products in Pakistan as offered by Blush beauty standards are composed of watery agents that make the consistency more liquid, favorable for all skin tones, textures, and types. These ingredients are
Hydraulic acid
Glycerin
Betaine
Panthenol
Glycol acid
Antioxidants like Vitamin A
Plant lipid extracts
Essential fatty acids
Beauty with nourishment is the best combo one can look out for in the cosmetic market. In any era, organic and natural beauty care wins over synthetic chemical beauty makeup which might be trendy today but cannot guarantee skin maintenance for the longest time. Ayurveda is one of the most ancient beauty technique which stays to its roots of plant-based or organic mixtures being used for the wellness of body parts. It is a special approach that was efficient in the past and is still considered effective to ponder upon. Ayurveda products do not act superficially but it goes deep under the skin which is not all dangerous.
It is important to use Ayurveda organic products after diagnosing the abnormality and physiology of the skin. This will reflect directly on the treatment scale and beauty effect imparted by the natural origin items. This is the most secure type of skin therapy which is eco-friendly as well as skin-friendly, as it keeps the authenticity and auspiciousness of the skin intact.